Hi there!
I had a couple of items on my JustFab wish list and I was able to take advantage of their BOGO sale and pick up some super cute fringed heels and studded bag.
The shoes I picked are called Kora and the best part about them is that the fringe is detachable. You can have va-va-voom with the fringe or elegant without. The heels are a very reasonable a bit above 4" which means you won't be mincing like a wounded fool two hours into wearing them. I'm in love with the rich cobalt blue- like a dreamy ocean that goes perfectly with the blue of the bag.
Here's a closer look at
Kora
, retail $39.95 at JustFab, referral link to the left sidebar.
Above you can see some of the stitching detail and a close-up of the goldtone hardware. I love how well-made these shoes appear. These aren't cheaply slapped together shoes by looking at them or wearing them.
Below is one of JustFab's promo images for the shoe- what you see is truly what you get and I appreciate that.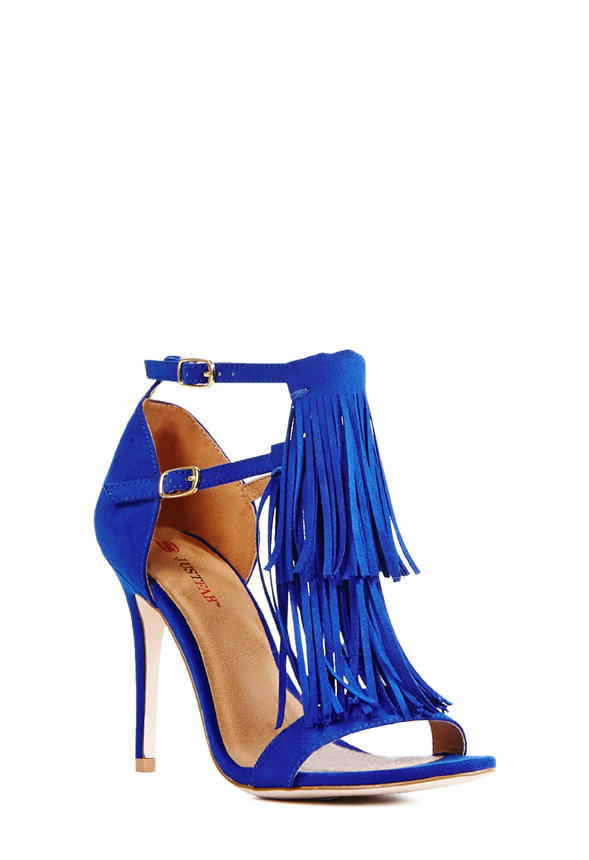 JustFab, Kora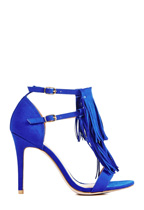 JustFab, Kora
Here is JustFab's blurb about Kora:
Fringed and totally fabulous, we love Kora's flirty style! She features a chic stiletto heel and front fringe detailing with a cutout back counter and two adjustable straps with buckles. Allover faux suede.


Shoe Details




Approx. Heel Height: 4.25"

Approx. Platform Height: N/A
I love these shoes and the fact that the fringe comes off is wonderful. The fabric looks like suede but definitely feels like cloth. I found them easy to fasten on and felt sturdy to wear. I appreciate that with the fringe being removable you get two shoes in one!
Next up is the bag Ornate, also in a lovely bright blue. Although the heels are more of an intense shade, the hues of the bag and heels match so it's nice to have the faux leather grain in a gentler cobalt than the shoe. I think it is more appealing that way and less matchy-matchy.
Here is a closer look at Ornate, retail $39.95-
You can see above how the pouchette snaps into place inside of the bag. I like this because it keeps my purse from becoming the black hole of death. I can sneak my phone, compact, lippies, or anything else handy right inside so I don't have to fish for what I am looking for. It's also like getting two bags in one. The smaller pouchette can serve as a cosmetics bag, be studded for a clutch, or used as an insert to the larger bag.
Lovely studs in a beautiful blue add a luxe detail to the bag. I also appreciate the goldtone corded strap and inside handle. It increases the versatility of carrying the bag but also looks pretty dang fine. The faux leather grain feels buttery and the inside is a camel colored 'suede' that is quite nice. I feel like this is a much more expensive appearing bag than what I paid.
This is JustFab's blurb about Ornate:
The name of this beauty says it all! Beautifully embellished with subtle front studs, this bucketed bag is a must-have on every fashion girl's IT list. Easy carry top handle with chain looped faux leather shoulder strap.
Material: Faux Leather

Size: 15L x 13H x 4.5W

Hardware color: Gold

Strap detail: Removable shoulder strap

Shoulder drop measurement: 6"

Closure: Snap closure
And one of their promo shots of the bag-
JustFab, Ornate
Again, you can see that the promo shot and actual product are spot on. If anything, the bag is prettier in person. I'm 200% pleased!
Here's a final look at the two together. I just love them!
Just for fun I created a little set on Polyvore- with how I'd wear this bag/heel pairing if I was fabulous and going to slink around town blowing air kisses.
Polyvore creation
What bright punch of color are you loving right now? I feel like this blue and aubergine I recently posted are betraying my abiding love for vibrant jewel tones. I want my whole life to be a Technicolor movie- it's just prettier when it's bright.
Shop the Look
Have a great day,
T