Hi there!
I have this weird love/hate thing going on with Jessica Simpson. Whenever she was married to Nick Lachey I watched the Honeymoon show and thought she was a major babe but annoying as crap. Then suddenly she had all these purses and junk she was labeling and I thought, okay businesswoman- but what celeb doesn't make purses and junk? Then the perfumes. I never bought them.
But then suddenly, I realized one had some major rose gold going on. I couldn't help myself. It could've had Jessica's face on it in rose gold and I probably would've loved it anyway. But it doesn't. AND the best part is- it smells great! As in brown sugar mixed with warm summer days and that sexy way your man's shirt smells and you love it....all rolled in one. It is rather lovely- with a feminine foo foo edge to it that makes it delicious.
Here she is, peddling the goods!
It's called Fancy. It makes me think of that old Reba song about a hooker. I don't know if that was Jess' angle, but there it is.
Below is the ad for the perfume. It's pretty, with a nice pattern to the flowers. The actual bottle is more metallic looking. The actual launch for this fragrance was 2008. FYI, Forbes reports it made $18 million in sales in 2011. EIGHTEEN Meeeellyunnn dollars......good grief Jessica! It is also made by Parlux, the same company that creates Paris Hilton's super classy perfumes (snark snark).
Above is the bottle of the fragrance, 3.4 oz perfume. You can get it at Ulta
HERE
. The scent is described as:
"Yummy, floral fragrance blends deliciously in Jessica Simpson Fancy. Scent opens with refreshing pear apricot nectar wrapped with red fruits. The heart notes feature gardenia laced with the delicate night blooming jasmine. Infused with scents of toasted almonds and caramel, scent ends with notes of sandalwood, then unites with the warmth of vanilla creme."
I think that's fair- I mean I hate perfume descriptions. How do you find apricots in something you smell when there are all kinds of scents mixed together? I just know when it smells good, cheap, or amazing- this is probably a solid 7 out of 10 if you don't mind a sweeter, more feminine fragrance. My all time fave is Calvin Klein Euphoria with Jimmy Choo a close second...this might be in my top three. It is covered in rose gold after all. Here are more pics!
And if this doesn't completely ruin it for you, the base of this scent is ambergris. What a lovely word, almost french looking. Here's
what
it is:
Ambergris is a natural ingredient used in fragrance production, that is often reproduced synthetically due to its high price. In its natural form, ambergris is a solid, waxy substance produced in the digestive system of sperm whales, having a sweet, musky odor.


Ambergris is passed in the fecal matter or regurgitated by sperm whales, and sometimes resides in their abdomens. It can be found floating upon the sea and along the shorelines of the Atlantic Ocean, on the coasts of Brazil and Madagascar, on the coast of Africa, of the East Indies, mainland China, Japan, India, Australia,

New Zealand and the Molucca islands. However, most commercially-collected ambergris today is sourced from the Bahamas and Providence Island.


Ambergris has been a popular perfume ingredient since ancient times, possibly due to its excellent fixative qualities (it can be used to stabilize more volatile or delicate components). The Ancient Egyptians, Romans, Greeks and Arabians all used it in perfumery. In Asian cuisine, ambergris was used as a spice. Turks brought it as an offering to Allah on their pilgrimages to Mecca.

Ambergris possesses an aromatic and complex scent, described as sweet, earthy, animalistic and powdery, with nuances of musk and marine notes.
Oh Heaven, give me strength. Whale crap? I couldn't find anything to back this up- but good heavens, seriously? Let's move along- this review is going south. Literally. Here is what Nordstrom has to say about Fancy:
Notes:

- Top notes: Luminous and joyful, the fragrance opens with the radiance of chic, sparkling pear and juicy apricot nectar wrapped in the glow of red fruits.
- Heart notes: Alluring floral femininity comes from the captivating draw of dewy gardenia laced with the delicacy of night blooming jasmine. Toasted almonds and caramel notes provide a playful and daring element.
- Base notes: Creamy sandalwood is united with the embracing warmth of vanilla crème and infused with the sensual energy of amber crystals, rounding out the many unique layers of the fragrance and its inspiration.
Better, eh? I'd rather recline in Nordstrom's next to the cafe than troll the ocean for regurgitated whale cubes. I didn't see ambergris in the list. But if you look closely, you'll see 'amber crystals' which are w
hite crystals of a substance named ambrein
(most likely what those crystals are, Ms. Simpson) and they are separated from ambergris by heating raw ambergris in alcohol, then allowing the resulting solution to cool. This enhances the durability of the fragrance. Well, 18 million dollars can't be wrong- regardless of what those unique layers are made of.
I digress- I have no real idea if the genuine whale leavings are in this perfume. I'd rather not think about it and I'm sure it's in such small amounts...oh who am I fooling- I can't pooh-pooh this away. If you're adverse to ambergris, perhaps now I've caused you to be ha ha, then maybe most perfumes are not for you. If you have bought anything ever from a department store, chances are you're familiar with whales in a way you had no idea of before.
Carrying on!
Fancy perfume and why it's great!
The pump is a spray bottle and although it looks expensively rose gold in color, it's plastic and I'm okay with that. The bottle is glass and the fluid inside is a nice blush color. Here is the sticker on the bottom of the bottle (that makes me sing Justin Timberlake 'Drink you Away')...but don't drink this! Save the whales!
A final image of Jessica Simpson at the launch of her perfume- the look on the dog's face (presumably her dog Daisy) tells me everything. You know he just found out what is in this stuff and Jess is whispering for him to hush it up.
It's what?
Okay seriously though I do love the perfume. It's wonderful to wear and isn't too cloying or give me a headache. The atomizer sprays a nice volume of the product so you don't have to make a cloud of it to feel fabulous. If you're looking for a new fragrance, pick up a sample on Ebay or at Nordstrom's, I think you'll be pleasantly surprised!
Any perfumes you love lately?
P.S. Kidding about the ambergris- it's a synthetic that is used in fragrances nowadays as it's been illegal in the US for some time. BUT DANG, synthetic whale poo?!
Shop this perfume-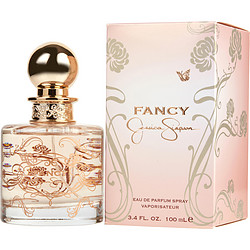 Have a great day,
T