Hi there,
Here's a close up of the colors I used on the eyes. I am really happy with how this turned out. I was inspired by another blogger Amanda, who used
Wish
on their eyes. I loved how pretty this look she made was and you can see it
HERE
. It was so gorgeous that I had to ransack my stash to find
Wish
.
It was a Pure Eyes Frost color from Aromaleigh that you can still get
HERE
. Wish is a beautiful colour. A lovely pinked out coppery rose that seriously, I wish I could find silk fabric like this. Satin sheets in this color would make my year. In this photo it is the color at the inner portion of my eye and center lid.
Then I did some wonky photos of my eyes and edited them out to be all crazy. There's only 2, then I'll get to the rest of the LOTD :)
I used Orchid for the liner and the outer V. Orchid, from Aromaleigh's Pure Eyes Frost, is this really cool haunted light lavender with a pink sheen to it. It's like the best of pink and purple blended together and it glows. I blended that with Aqua Nightmare, a brilliant non shimmery bright aqua from Aromaleigh's Gothic Lolita collection. For a highlight on my browbone and inner eye, I used Snow, another Pure Eyes Frost colour (a gleaming white pearl) to add some gleam.
The lashes are from Hong Kong and I got them on Ebay. They are black on the bottom and then from the top they have silver lines. They're pretty in the light, but in photos they tend to look like I missed with my mascara. I like the sparseness and length of them. They're not full fringes and I wanted to see the eyeshadow behind them. However, they were stiff. I kinda hate them actually :)
I always look like I'm recovering from a bender....geez! On my cheeks is BeneFit Benetint with Aromaleigh Verve on top. It's a nice rosy glow. My face is uber pale right now and so I used a pale foundation, Ben Nye's Colour Cake in Geisha. In the picture below it looks like I'm looking up out of a window. I am having a hard time finding good angles for my face. I'm heavier than I ever have been, so I fuss about this a lot and end up looking goofy. Plus one of my eyes is higher than the other, can you tell? LOL I'm crooked!!
On my lips I used Aromaleigh's Gothic Lolita lip creme in Sweet Tart with Besame's Pink lipliner. Brows are Elf's eyebrow kit that comes with a dark brown wax and pale brown powder. I think it's okay...a little orange brown for my rather neutral brown brows, but it does cover well.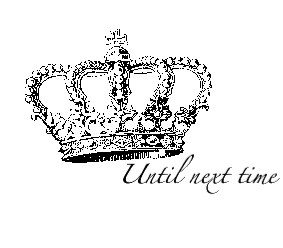 Are there any colours from Aromaleigh you're wanting to get? Right now is the most amazing deal, each jar is $2.75 full size and if you buy more than 10 it drops to $2.50! WOW! Wish is only available in the 3 pack samples, but the others in this look are still around in full size jars. What a fabulous deal! Are you getting your final
Aromaleigh
haul?
Have a great day,
T